Our Approach
We support young people's mental health and wellbeing by focusing on three key pillars:
LEARN: to understand the needs and drivers of young people's mental health.
INVEST: to fund youth-led mental health innovation; and
MOBILIZE: to foster partnerships and create an ecosystem that allows for system-wide change to support youth wellbeing.
Young people are at the heart of our approach. They serve as program advisors, as key stakeholders in consultations, and youth-led organizations will be central to carrying out the work in each of the priority countries. By sharing what we learn from our pillars and connecting people and networks, we want to support and improve research, programs, and policies that help young people's mental health and wellbeing everywhere.
What We Fund
We fund research, innovation, and ecosystem building focused on young people's mental health and wellbeing in 13 priority countries: Colombia, Ecuador, Egypt, Ghana, India, Indonesia, Morocco, Pakistan, Romania, Senegal, Sierra Leone, Tanzania and Vietnam.
We believe those closest to the challenges can better identify needs and critical barriers and offer impactful and sustainable solutions. That's why our research, innovation, and ecosystem building funding is guided by locally-driven landscape analyses and country consultations with youth, policymakers, local organizations, and mental health experts.
Beyond funding, we're creating a learning and support community to share best practices, lessons, and our collective impact on global mental health. We support the scale and impact of funded organizations through dedicated technical support in monitoring and evaluation, stakeholder and youth engagement, fundraising, communications, and more.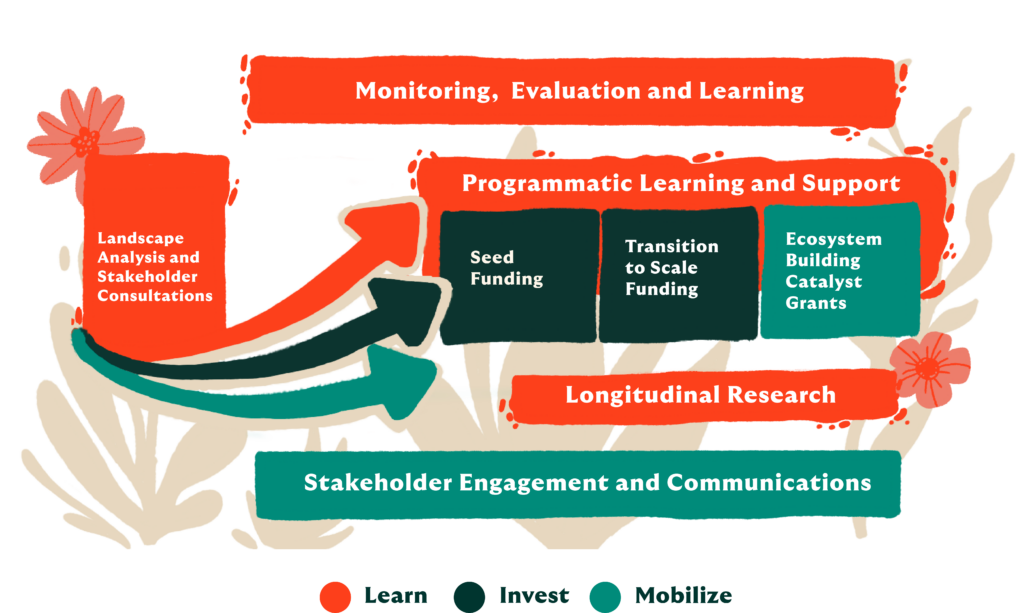 Policy and Advocacy
We aim to unite donors, funders, investors, governments, multilateral scaling partners, local intermediaries, and communities by promoting the ongoing exchange of new evidence, innovation and learnings to advance global dialogue and advocate for young people's wellbeing.
As a global mental health initiative, we're actively seeking new partnerships to expand our scope and create an ecosystem for young people's mental health and wellbeing.